The costs of treatments at Stretch massage vary according to the duration of the treatment and the number of sessions booked. As an indication, the cost of treatment is as follows: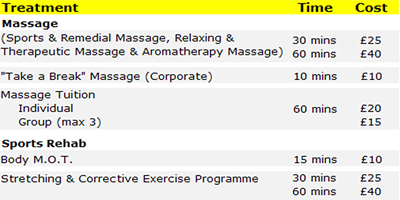 Currently we are offering £5 off the cost of a massage and we regularly offer "4 treatments for the price of 3" for our valued customers, so it's always worthwhile getting in touch.
Sports Clubs and Company rates are negotiable and can be arranged and tailored to specific requirements, with a price to suit every budget. These sessions may be paid for entirely by the employer or sports club, entirely by the employee, or may be shared.
Corporate Packages: Price on request

Pre / Post event massages: Price on request

Please note there is an additional £5.00 charge for home visits

Gift Vouchers also available.
Ask for a FREE demonstration and experience the benefits of massage yourself.
In accordance with standard practice, we regret that a charge will be levied for missed appointments or non-attendance unless at least 24 hours notice is given