When you come for an appointment, our therapists at Stretch will listen to your areas of concern, injury, goals or objectives and following a brief consultation, will tailor a treatment plan based on what YOU want.
And if you're not sure what YOU want……Don't worry, you're in experienced hands that will quickly get a feel of what is right so that your experience is both relaxing and energising. The whole process is all about YOU and what is right for YOU.
The treatments available at Stretch Massage include:
Sports Massage - Sports massage is a deep massage that really works the muscles and is an extremely effective mechanism for loosening tight muscles, refreshing aching limbs and preparing your body for your next bout of action.
Relaxation / Therapeutic Massage - Whether you are an athlete looking to induce full body recovery after exercise or you have simply had a hard day in the office and are looking for a long, luxurious massage, then this is the treatment for you.
Corporate Visits: On-Site / "Take a Break" Massage - "Our massage therapists can increase your productivity in as little as 15 minutes. After experiencing the calming and refreshing effects of a massage focussing on the high tension areas of the neck, back and shoulders (and done conveniently through the clothing, i.e. no messy oils), you and your colleagues will be ready to take on anything
Stretching - Our trained therapists will use a range of techniques aimed at stretching, strengthening and stabilising muscles and joints. Often ignored or done incorrectly, we will help you to improve your technique, improve your flexibility, enhance performance and eliminate pain.

Corrective Exercise Programmes - Whether you are injured and want to know the best exercises to get you on the road to recovery or just stuck in a rut, our tailored exercise programme will help you gain muscle strength and avoid future problems.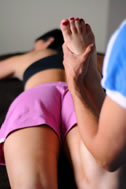 Body MOT - Just like your car needs a regular service, the Body MOT is a great way of restoring your body to optimal alignment.
Whether you need a short course of treatments or an extended rehabilitation programme, out trained therapists will provide you with the most effective and appropriate treatment to help you recover full health and wellbeing in the shortest time possible.
Is your problem out of our scope of practice? Not to worry, we are affiliated with professionals who we feel are the best in the North West. We know better than to think we can "fix" every ailment we encounter. We network closely with Sports Medicine specialists of all kinds: Podiatrists, Chiropractors, Physiatrists, Acupuncturists, Physical Therapists, Orthopaedists and Pilates Instructors.